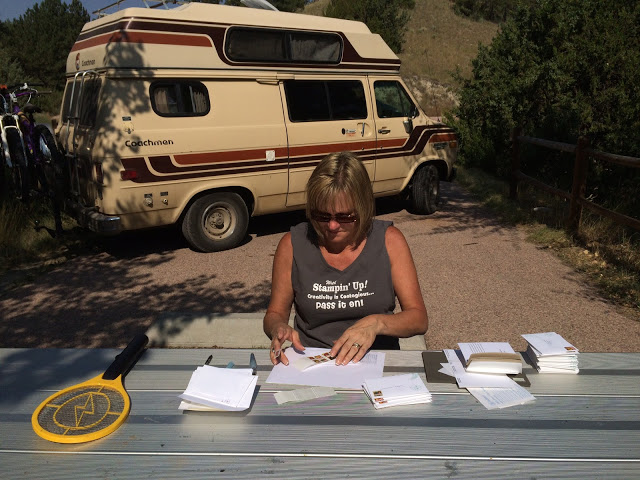 I became a Stampin' Up! demonstrator because I enjoy stamping and at that time I was a stay at home mom and needed some adult time. It was the perfect thing for me and my family because with Stampin' Up! you make your own schedule. I love being part of a company that inspires my creativity with exclusive stamps and accessories!
I have made the most wonderful friends through my Stampin'Up! experiences and it was an easy way to meet new people when our family relocated.
Not many working place that will send you and your honey on a all paid vacation to Hawaii, Alaska, Thailand, Italy just to name a few and Stampin'up did it for me.

Now in a nut shell who is Frenchie,a french Canadian that live in the United States ,Texas at the moment, a mom of 2 young adlult and a wife.
Extra about me is if you can't find me in my craft room you will find me camping with the family or be out door well I even bring my stamping camping that is what I call a perfect day when I can do it all in one place with the family by my side.
If you want more information about Stampin' Up!'s exciting products or to join my awesome team, please contact me.
If you interested to know how involve I am in my business. Here a little bit of my accomplishment.
Since 2009 I rank in the top 100's for performance. In the top 20 for Sale, Recruit and Leadership for the past 5 years.
Earn the incentive trip each years since 2008.
Hit the Million Dollar Career Sales in May of 2019
So with these accomplishment, I bet you know I take my business seriously and customer service is my number one thing with the care of my team.
Any question please contact me.
♥Frenchie